Xebrio has an intuitive user friendly interface. From the homescreen, you will be able to navigate around it easily.
Main Vertical Panel
On the left side of the home screen is the main vertical menu which will allow you to navigate to various screens. The screen which you are currently viewing will be highlighted and the title will show at the top of the screen.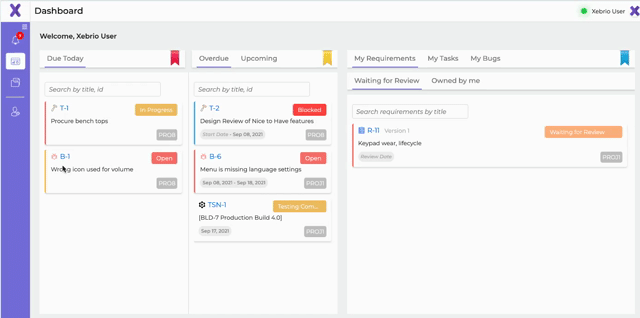 Notifications - If there are unread notifications, the count will be shown in the red bubble on the notification icon. Clicking on the icon will open up to the Notifications page. For a deeper dive into this screen, please see Notifications screen.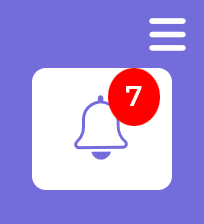 Dashboard - On the dashboard, you will be able to view an overview of requirements, tasks, bugs, and when each may be due. You will be able to view, for example, requirements waiting for your review, tasks assigned to you, requirements/tasks/bugs that you own. For a deeper dive into this screen, please see Dashboard screen.

Projects - On this screen you will be able to see all the projects for which are a member. If you are an internal user, you will also be able to create a new project on this screen. For a deeper dive into this screen, please see Projects screen. To dive into creating and starting projects, see Set up a project with Members & Organizations.

Admin - This icon will only be available to those with admin privileges. An admin will be able to manage users, organizations, projects, and billing in this space. To dive into the Admin role, see Admin management of users, organizations, projects.

User Name and Avatar - On the top right of the screen is your user name and avatar. Clicking on the avatar and then clicking on
My Profile will allow you to view the details of your profile. To dive into managing your profile information, see Updating user info in My Profile.
In the dropdown, you may logout of your account by choosing the
Logout button.

Expand & Version - You may choose to expand the left side vertical menu using the
icon. It will expand to show the full titles of each section as well as the Xebrio version on the bottom right corner of the panel. You may collapse this view using the
icon.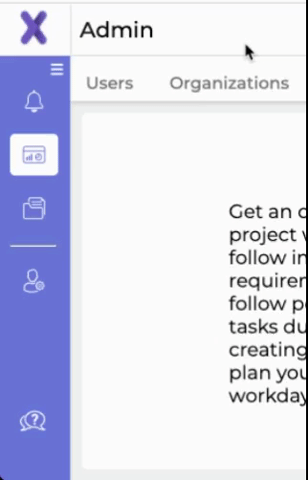 Contacting Support - On the bottom left corner of the main vertical menu, you may click the help icon to contact Xebrio support. This will open to your preferred email method.